Welcome,
future
colleague.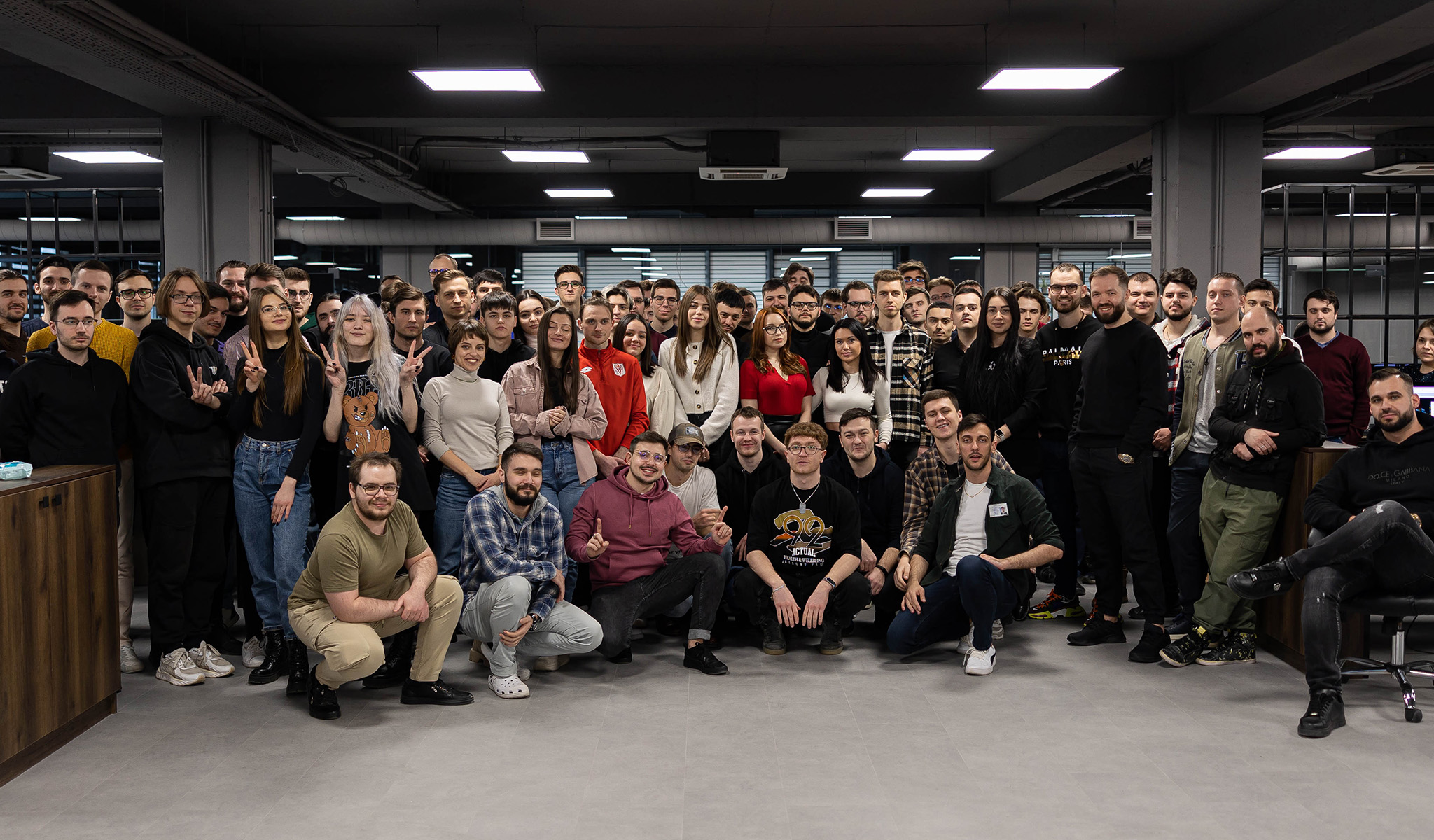 We don't just dream big—we act big. 2023 isn't even in its final stretch and we've already smashed our goal of a 300-strong team. But why stop there? Our sights are set on becoming more than just a game company. We're in the race to outshine industry giants like EA Games and CD Projekt Red.
We're not just here to play the game—we're here to change it 😉
And where are we doing this? Not in Silicon Valley, not in the bustling tech metropolises of the world. No, we're doing it right here, in our homeland of Moldova. It's from these grounds that we're going to change the game. It's from here that we will launch our assault on the status quo.
Midnight, in 3-5 years will be a big player in the global market, so those who want to
join us - do it now, or you might be too late.
Yes, we are ambitious and we love our country, deal with it.

Cristina V.
"Lucrez în Midnight de mai bine de 5 ani și am fost impresionată de profesionalismul și angajamentul colegilor mei de la această companie. Mentorul meu m-a ajutat să-mi îmbunătățesc abilitățile și să devin mai sigură pe mine în munca mea. Cursurile de dezvoltare personală și profesională interne au fost de asemenea foarte utile pentru dezvoltarea mea.
În plus, abonamentul gratuit la fitness și accesul la cafeaua companiei sunt un avantaj mare pentru mine, în special în zilele aglomerate.
În general, simt că această companie investește cu adevărat în dezvoltarea mea și mă simt recunoscătoare pentru toate oportunitățile oferite."

Serafim C.
"De când m-am alăturat echipei, am fost plăcut impresionat de cultura companiei și de angajații cu care am lucrat.
Cursurile de formare interne organizate aici m-au ajutat să îmi dezvolt abilitățile, iar colegii mei m-au încurajat să îmi depășesc limitele.
Îmi place, de asemenea, faptul că compania se preocupă de bunăstarea mea în afara biroului, oferindu-mi un abonament la un club de fitness și organizând o petrecere de vineri în fiecare săptămână. Este evident că această companie este un loc unde pot crește și să îmi dezvolt cariera."

Николай Г.
"Я работаю в компании как разработчик игр на Unity и могу сказать, что это одно из самых вдохновляющих мест, где мне довелось работать.
Мы создаем игры, которые меняют жизни людей, и у нас есть множество возможностей для совместной работы с другими творческими профессионалами.
Я благодарен за возможность создавать игры, которые вдохновляют людей, и я уверен, что буду продолжать работать здесь.
С тех пор как я в Миднайте - компания выросла в раза три, это дает мне уверенность что всегда смогу расти здесь, как профессионально так и финансово. "
Benefits within the company
Midnight is
years old
To be more exact
We have faced many challenges, lots of ups and downs, many tough decisions; sometimes it was easier, sometimes it was very hard.
The book of our history has many pages, characters, incidents, locations, ideas...
But the author has only one message, that we've always been a team, and we've overcome everything together.
Right now, the next page is being filled with ink, and we're eager to read it.
Frequently asked
questions
I don't have experience, does Midnight.Works offer internships?

No, we currently do not offer internship programs, but we welcome applications from junior level candidates who are eager to start their career in the gaming industry.

What benefits does Midnight.Works offer?

Free courses from top experts, free fitness subscription, free english lessons and many more. Check out our careers page for more benefits that Midnight.Works offers.

What types of roles are available at Midnight.Works?

Midnight.Works hires unity developers, 3D modellers, UI/UX designers, marketing specialists and others. Please visit our careers page for the most current job listings.

How can I apply for a job at Midnight.Works?

You can apply for a job at Midnight.Works by filling out the application form on our website's careers page. Alternatively, you can send your CV and a cover letter to hr@midnight.works. Be sure to include the job title in the subject line of your email.

What is the hiring process at Midnight.Works?

Our hiring process typically involves a review of your application, an initial interview, potential skills test depending on the role, and a final interview. We aim to keep candidates informed about their status throughout the process.

What qualities does Midnight.Works look for in potential employees?

We value creativity, passion for gaming, teamwork, and a drive to innovate. We seek candidates who are eager to contribute to our mission of creating unforgettable gaming experiences.

What is the mission of Midnight.Works?

Our mission at Midnight.Works is to outshine industry giants like EA Games and CD Projekt Red in less than 10 years (to be honest we think 5 years is enough)

Is remote work an option at Midnight.Works?

No, Midnight.Works does not support remote work at this moment. All positions are based at our offices.

What is the work culture like at Midnight.Works?

At Midnight.Works, we foster a collaborative, supportive, and innovative work environment. We encourage our teams to push the boundaries of what's possible in gaming.

Does Midnight.Works have opportunities for career growth and development?

Yes, we believe in nurturing our talent and provide opportunities for learning, development, and career growth. We want all our team members to grow as we grow, career-wise as well as financially.
Start your career at Midnight.Works